By 2030, 39 megacities will house 9% of the world's population and collectively account for 15% of the world's GDP. Megacities are significant for businesses since they concentrate consumer markets and allow for rapid scale in a small geographical area. The dense population leads to social and environmental problems unique to, or exacerbated by megacities, but often the greatest business opportunities arise from innovations to address these challenges. 10EQS recently had the privilege of discussing these issues and opportunities with leading experts on the economic and social development of megacities. They identified two major areas of opportunity: health and sustainable growth.

What are megacities?
Megacities are urban areas housing more than 10 million inhabitants. Currently, there are 33 megacities in the world, 26 of which are in developing countries. By 2030, six new cities are expected to join the megacity category: Bogota, Chennai, Luanda, Dar es Salaam, Baghdad, and Chicago.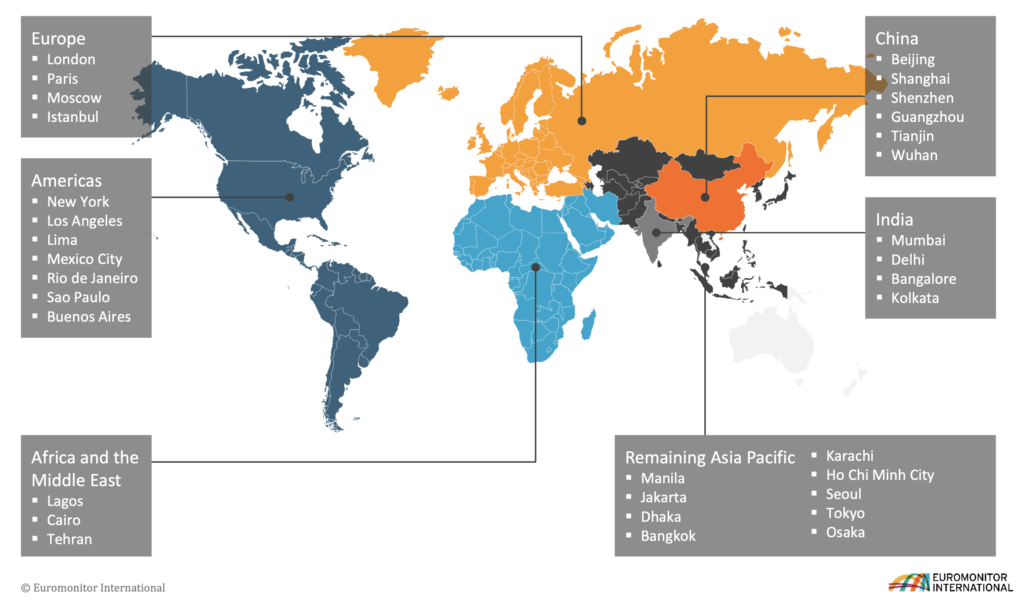 Healthy living
The sedentary lifestyle, increased stress, less free time, availability of cheap fast food, and low levels of home cooking common to residents of megacities are resulting in a rapid increase of non-communicable diseases (NCDs) such as cancer, heart disease, and diabetes. This is especially prevalent in developing countries where western-style fast food is gaining popularity. A Program Manager at the Centre for Indonesia's Strategic Development Initiatives (CISDI) told 10EQS that 75% of deaths in Jakarta are currently caused by NCDs. Around 8% of the city's population suffers from diabetes, higher than the national average of 6%. When people migrate to cities, the volume of food they consume increases while the quality (in terms of nutrition) decreases.
Strong government campaigns and a greater consciousness of the need for healthy living and changing consumer patterns – mostly among younger and wealthier city dwellers – are opening up new business opportunities.
Personal health
As the trend for fitness increases, so too does the demand for devices that support wellness, particularly wearables to track activity and exercise. There is also a trend towards higher intake of food supplements, probiotics, and superfoods as a means of addressing poor background nutrition. Home devices such as humidifiers, air filters, and water purifiers are increasingly popular.

"Two key areas that will shape the state of health and nutrition over the next decade is the use and consumption of innovative and healthier foods, as well as performance enhancement, i.e. to improve sleep quality, mitigate the effects of sleep-deprivation and aging. This may lead to greater awareness of the importance of nutrient absorption, antioxidants and micronutrients, interest in sleeping aids, and a shift towards sustainable plant-based protein." – Director of Policy and Programs in Asia, Milken Institute



Connectivity and analytics
Singapore's Smart Nation Program harnesses new technologies, networks, and big data to make it the world's 'smartest city'. Health – one of six initiatives in the program – started with programs around public health and sanitation, expanded to Telehealth to bring healthcare into the home via digital connectivity, and has grown to cover NCDs. As a result, there has been a proliferation of sensors, assistive technologies, and new health hubs popping up in all areas of the city. The next phase is to harness Deep-Tech AI capabilities. While such a centralized, large-scale initiative requires governmental coordination, the programs and applications implemented in Singapore will provide a strong indicator of potential profitable business initiatives in growing megacities.



Urban farming
Food supply for megacities typically comes from far outside the city, often imported from other provinces or countries. Fresh food is more expensive and less nutritious due to the travel times and the majority of the residents rely on frozen or processed foods. Informal community movements around urban farming have been around for many years but the push for healthier living and lower carbon emissions is starting to attract support and incentive structures from city management. Megacities recognize the fragility of relying on imported food supply. To boost food security, Singapore aims to produce 30% of its nutritional needs by 2030. Vertical farming is key to achieving its goal as it currently uses less than 1% of its land area for agriculture. The world's first underground farm, Growing Underground, was opened below the streets of London. Most inner-city farming systems are not price competitive with imported food supply and will rely on government support in the short to medium term, but there is a strong business opportunity for companies whose innovation can boost the profitability of urban farming.

"Sustainably produced food is an important trend and presents commercial opportunities for food producers. The challenge is making sustainably produced food available to all citizens." – Senior Fellow in Food Security, S. Rajaratnam School of International Studies.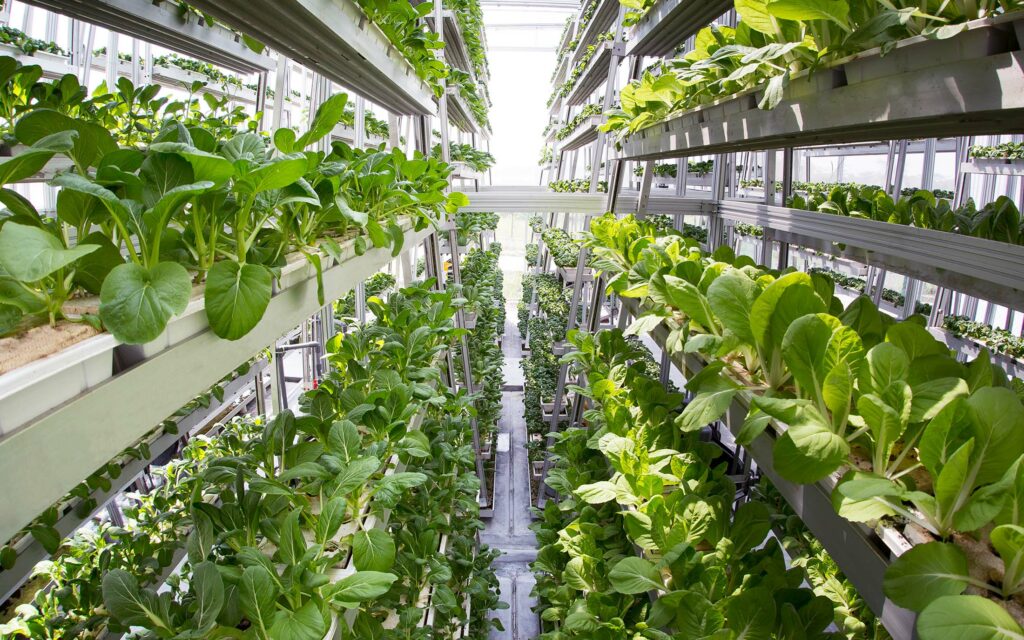 Circularity
Megacities face pressure to become more sustainable from four distinct sources: commitments made under the Paris Agreement on climate change, limited land and resources, mounting waste, and consumer demand for greener business practices.
Cities and their markets are turning to circular systems that reuse, share, refurbish, and recycle products in order to reduce the net consumption of virgin resources and the resulting waste created.
The need for sustainable growth in megacities is producing opportunities in the following areas:
Recycling e-waste
Megacities around the world lack space for the construction of new landfill facilities and better recycling technologies are needed across all categories of waste. Particularly pertinent is the recycling of used electronic products made from components containing rare metals. The global market for rare metals is forecast to grow at a CAGR of 8.2% to reach $20.6 billion by 2025. Incinerating e-waste results in valuable rare metals being lost and the concentrated disposal of such waste in megacities provides a long-term investment opportunity for firms that can crack the challenge of profitable recycling of e-waste.



Green building refurbishment
China is home to 6 of the world's 33 megacities. Under its Green Building Action Plan, it requires that 50% of new buildings comply with the green building standard. Additionally, the plan requires that 600 million square metres of existing buildings are refitted to meet green building standards. The ambitious plans and rapid pace of transition are attracting foreign firms to fill the local knowledge gap and take advantage of economies of scale unavailable in most European and American cities.



Product-as-a-Service
The high concentration of consumers in megacities improves the business case for Product-as-a-Service (Paas) models whereby consumers do not own products but rent them from OEMs or intermediaries. The rental of electric scooters, pioneered by Bird, Lime, Skip, Scoot, and Spin are the latest addition to pick-up and drop-off vehicles managed through mobile applications. The model is also gaining popularity amongst consumer goods where the top five categories of items rented in the US are: furniture, gaming systems, clothing, tools, and personal technology. Cort charges a monthly rental fee per furniture item, while Rent the Runway runs a subscription model that allows members to exchange clothing items freely during their subscription period. Consumers' demands for a lower-waste economy combined with smaller living quarters in dense cities will drive the increasing popularity of PaaS business models.
"In general, the market for greener and conscious products is going to rise dramatically. Companies that do not jump into this step will be left behind." – Lead Ambassador of Circular Economy for the Advanced Leadership Foundation.
More than half the world's citizens currently live in cities and by 2050, this is forecast to rise to 70%. Companies whose innovation and business strategy manage to solve the problems that arise from megacity life will be well placed to take advantage of a long-term concentrated market.
---
About 10EQS: We help our clients to identify risks and opportunities in future market developments and to better understand the business challenges impacting their strategic decision-making process. The above article is a cross-summary of various projects in the field of city economies and urban development. Insights are generated by interviewing leading experts and executives with significant industry, technology, and market knowledge, synthesized by our consultant teams.
Author
Pierre Heistein has 11 years' experience in macroeconomic and market analysis. He has completed 25+ projects for 10EQS and is concurrently the Subject Matter Expert on Macroeconomics for the MIT Sloan School of Business where he facilitates its online course on Economics for Business. Prior to 10EQS he spent five years writing for Oxford Analytica on its Sub-Saharan Africa desk and six years as a weekly columnist for South Africa's largest business publication.
Our Latest Posts