The vast majority of scientists agree that manmade Greenhouse Gas emissions (GHG) are causing climate chaos and must be reduced significantly if humans wish to continue to live comfortably on the planet. Globally, annual GHG emissions from transport represented 24% of all emissions in 2018 and transport is the fastest growing emissions category.
What are GHG emissions from transport?
Transport refers to the movement of people and goods by different modes, the table below shows GHG emissions in the US categorized by transport mode.
2017 U.S. Transportation Sector GHG Emissions by Source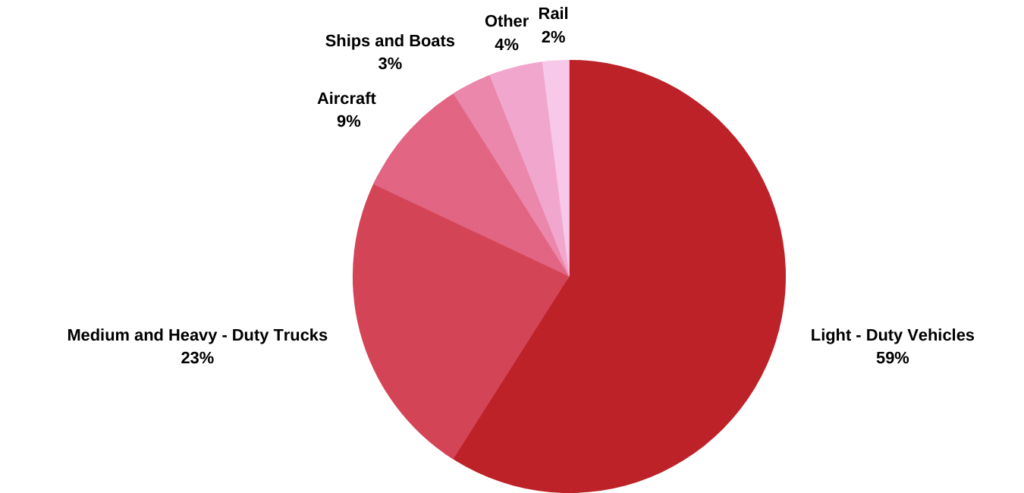 GHG Emissions in Gigatons (Gt) from transport by region and mode
| | | | | | | |
| --- | --- | --- | --- | --- | --- | --- |
| Region | Total | Light-Duty | Heavy-Duty | Air | Ships | Rail |
| Global (2018) | 8.0 | 3.6 | 3.40 | 0.93 | 0.85 | 0.08 |
| US (2017) | 1.8 | 1.1 | 0.44 | 0.17 | 0.04 | 0.04 |
| EU (2018) | 1.2 | 0.95 | 0.95 | 0.15 | 0.15 (2017) | 0.05 |
The table above shows that globally, light-duty vehicles (cars and light-duty trucks) represent almost half of total transport emissions, with even greater weight in the US and the EU. Both regions have mandated average emissions targets for new car manufacturing to address the challenge of carbon emissions reduction:
The EU 2021 target is 95 g/km, compared to a 2017 average of 119 g/km.
Commercial Aviation (passengers and freight) accounts for the majority of all aviation emissions. Passenger Aviation alone represents 81% of all Commercial Aviation emissions. IATA members have pledged to cap net aviation emissions through carbon offsets from 2020 onwards. By 2050, its members aim to reduce net CO2emissions by 50% compared to 2005.
Traditional shipping fuels are among the most carbon-intensive and polluting fuel types, as the bunker fuels used are by-products of refined oil and gasoline. While the 2015 Paris Climate Accord did not include environmental impact reduction targets for ocean vessels, the International Maritime Organization (IMO) has set progressively more ambitious cleaner-fuel and GHG emissions targets for 2020, 2030 and 2050. Its goal is to essentially "catch up" to the Paris Accord targets for other industries. The 2020 targets focus on significantly reducing air-polluting Sulphur Dioxides (SOx). Compared to 2008 levels, the IMO aims to reduce the carbon intensity of transport by 40% before 2030 and by 50% before 2050.
How can transport emissions be reduced in your operations and what are the benefits for businesses?
1. Light-Duty Vehicles: Consider refreshing your automotive fleet with EVs, saving operational costs, and realizing a several-year pay back. Consider using renewable fuels from Neste or Good Fuels.
Businesses and local governments are starting to appreciate the operational savings realized from using electric vehicles (EVs). Maintenance costs of EVs are about half those of Internal Combustion Engine (ICE), while the cost of the same power output is about a third. In certain contexts, EVs also qualify for potential carbon credit earnings. While EVs are still more expensive to purchase than ICE vehicles, the comparative upfront cost is projected to reach parity in 2025. Currently, the higher purchase price is recovered over only a few years at 30,000 miles per year. Economics aside, companies recognize that employees and customers are demanding greener products and services. Initiatives such as the Climate Mayors EV Purchasing Collaborative smooth the way to the widespread introduction of EVs by cities in the US. Amazon contracted Rivian to supply 100,000 electric delivery vans by 2030, helping to achieve rapid economies of scale in this transport niche.
Yet, despite early policy initiatives in Europe and EV demand in the US market, China leads the world in EVs. More than half of the global total of 3.3M BEVs (Battery EVs) on the roads in 2018 were deployed in China.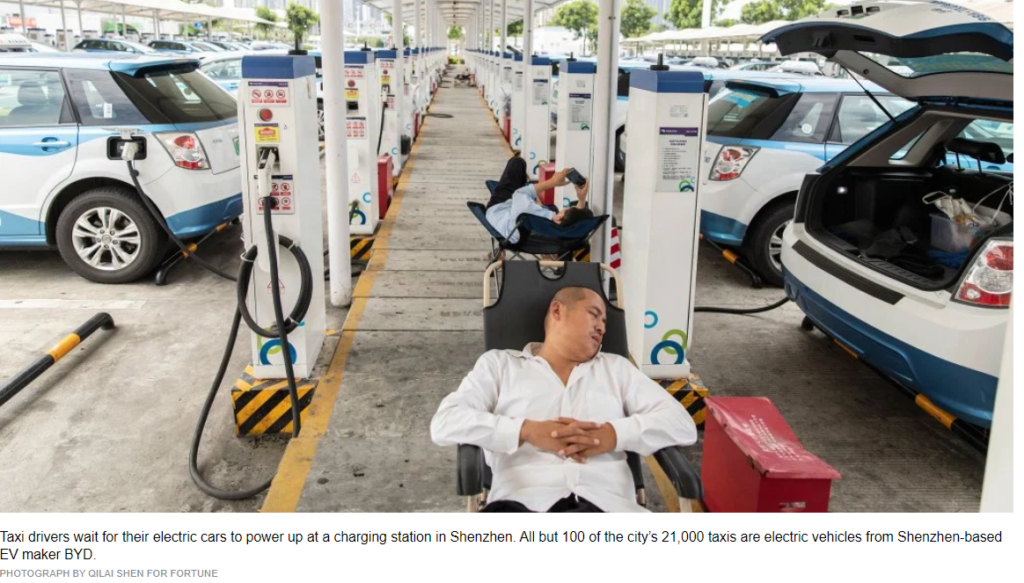 Europe-based Neste and Good Fuels are pioneers of diverse renewable fuels. Their products can be used as standalone fuels in some instances, but are more widely used as drop-in fuels blended with fossil fuels. Some Neste products can also be purchased in the US.
The light-duty truck EV sector is lagging behind passenger EVs and heavy-duty trucks. Ford, Tesla and other manufacturers have promised to launch light-duty trucks within the next few years. Stay tuned.
2. Heavy-Duty Vehicles: Offer to trial early-production EV trucks in 2020.
Heavy-Duty electric trucks are already on the market. Volvo (production to start in 2020), BYD (40,000 buses so far and trucks that promise a payback of only several years), and Freightliner (250-mile range, in trial at Penske) are all demonstrating innovation and have beaten the well-publicized Tesla Semi to market.
According to Brett Pope, Volvo's North American director of electric vehicles:
"Battery electric vehicles address environmental concerns. Customers are asking for that. There are now consumers and businesses that want goods and products delivered in an environmentally-friendly way with zero-emissions vehicles."
3. Airlines: Consider using sustainable aviation fuel.
Airlines have invested in more fuel-efficient planes and Air France, Easy Jet, and British Airways are already offsetting emissions. In the US, JetBlue has pledged to offset all domestic emissions beginning in July 2020. KLM and Lufthansa began using Neste's MY Renewable Jet Fuel, which reduces lifecycle emissions by 80%, out of Schiphol and Frankfurt respectively in 2019. Jet Blue will begin using it out of San Francisco in 2020.
4. Ships: Seek to move ferries towards electric battery propulsion. Larger ships should plan for flexible new ship designs and consider wind assist propulsion.
Short-haul ferries are beginning to use electric battery propulsion, as the back and forth routes support onshore charging. However, the critical challenges are the weight and volume of the batteries, the expense of marine battery casings, and the required onshore charging delay times. Of the 50,000 marine vessels currently in operation, only 356 are fully or partially battery-powered.
Ships typically have a 30-year life span. Faced with rapidly evolving technologies to reduce emissions, ship owners must be flexible in design innovation, including next generation fuel cells complimenting other green propulsion technologies.
According to DNV GL, a provider of risk management and quality assurance services to the marine industry:
"The challenge for a ship built today is that this [technology to reduce emissions] change will take place within its lifespan. Failure to account for foreseeable regulatory and technology developments may render a ship built today uncompetitive at best. In the worst case, it may end up being prohibited from operating altogether."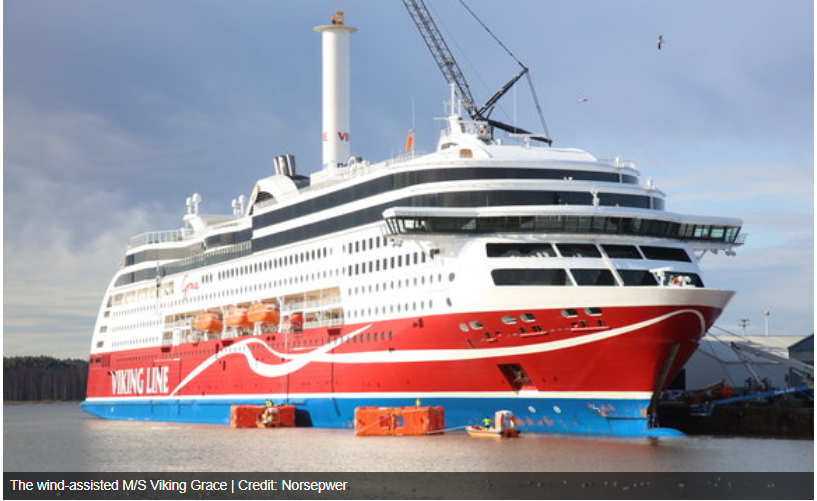 Summary
Reducing transport GHG emissions is challenging, but fortunately, many companies are moving in the right direction, blazing a path for others to follow.
To reduce your emissions, start by considering current GHG emissions, calculated from mileage and the types of fuel used. Then, consider how your vehicles can be light-weighted and streamlined and the business case for this. Think about how mileage or empty backhauls can be reduced, how people and goods can be transferred to less carbon-intensive modes such as buses, ships, and trains, or how your vehicles can use renewable fuels, at least as drop-in fuels. Finally, consider refreshing road and maritime fleets to electric-power, preferably with renewable-energy charging facilities.
---
10EQS has assisted its clients, including ferry companies, in evaluating more sustainable and innovative transport options, including light weighting and profile streamlining.
Author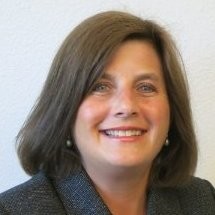 With more than 30 years of experience in consultancy and operations, Heidi-Lynn Tayler has provided performance improvement and market research services to companies in Europe, the Americas and Asia-Pacific. Heidi-Lynn's primary areas of expertise include logistics, environmental management, managed services, and IT across a wide range of industries including supply chain, heavy equipment, mining, naval engineering, and manufacturing.
Since 2012, she has led more than 160 projects for 10EQS.
Heidi-Lynn holds a B.A. cum laude in Geology from Amherst College (USA), an MBA from I.E.S.E. (Spain), and an M.Sc. with Distinction in Corporate Environmental Management from the University of Surrey (England). She is fluent in Spanish.
Our Latest Posts: