The increasing number of security breaches attributed to hacking, cyber terrorism, identity thefts, and money laundering leads to rising demand for incident response and readiness (IRR) services. The frequency and sophistication of attacks and the extortion of high ransomware have become a central problem for large and mid-size companies and organizations concerned with losing their reputation and client trust.
As recent multi-million attacks on Colonial Pipeline, Brenntag, JBS Food, and software management vendor SolarWinds show, an up-to-date incident response and readiness plan became a strategic necessity.
Incident Response Market Definition
The global incident response market is defined as a systematic process of managing and addressing targeted attacks or violations with the aim of controlling the situation by limiting potential damage and minimizing recovery costs and time.
Incident response is an organized approach to addressing and managing the repercussions of a data breach or any cyber-attack conducted by an organization's computer security incident response team (CSIRT).
The CSIRT may include human resources, public relations, and legal department representatives. Incident response planning (IRP) has established itself as an efficient strategy for companies to handle cyber incidents, minimize the impact of post-occurrence, and strengthen defenses against future incidents.
Enterprises adopt various incident response solutions due to stringent government regulations, changes in compliance requirements, growth in the sophistication level of cyber-attacks, and heavy financial losses post-occurrence.
Incident Response Market Overview
The incident response market size will Reach $119.39 Billion by 2030 with a CAGR of 21.3%. The incident response global market is primarily dominated by three groups of incident response and readiness service providers: professional services firms, tech and cyber firms, and legal and cyber insurance firms.
Professional services firms:
Professional services firms grow their IR capabilities through acquisitions and partnerships rather than in-house solutions. The leading professional services firms offer retainer services in contract models and propose a holistic approach to cyber security solutions with additional solutions and products providing more excellent protection.
Although the global incident response offering of the Big Four is scattered across geographies, the solutions and services bear similarities across continents.
Tech and cyber firms:
Tech and cyber firms provide incident response software solutions that utilize the latest technological innovations, including AI. Examples of the largest and most innovative providers of incident response solutions include Microsoft, Symantec, Palo Alto Networks, Cisco Systems, McAfee, FireEye, BAE Systems, Check Point Software Technologies, Rapid7, and CrowdStrike.
These firms enhance their SOC planning and SOAR (Security Orchestration, Automation, and Response) capability and make significant investments in IoT (Internet of Things) incident response acquisitions. Additionally, expertise in providing cloud security has become a critical service for these firms.
Legal firms and cyber insurance firms:
Legal and cyber insurance firms have also moved into the incident response business. Major law firms offer legal services for companies impacted by cyber attacks, including Baker Hostetler and Hogan Lovells. Preparing documentation and reporting on attacks are rising trends attracting law firms to assist with providing incident response solutions through third parties.
Although some professional services offer insurance claims in their managed services, large insurance companies increasingly offer incident response services through alliances (i.e., AXA XL, Beazley). Because of the increase in cyber attacks, the cyber insurance market size is expected to be $91.22 billion by 2031, with a CAGR of 23.78%.
Incident Response Market Segmentation
The incident response market can be segmented into various categories based on the type of services provided, the size of the organization, and the industry verticals. Incident response services can be classified into three categories: pre-breach, during-breach, and post-breach.
Pre-breach services include risk assessment, threat intelligence, and incident response planning. During-breach services include incident response, digital forensics, and malware analysis. Post-breach services include remediation, incident recovery, and lessons learned. Each category of services is critical in ensuring that organizations have a comprehensive incident response plan.
Another way to segment the incident response market is by the size of the organization. Small and medium-sized enterprises (SMEs) and large enterprises have different needs and requirements regarding incident response services.
SMEs typically have limited resources and may need to outsource incident response services to third-party providers. On the other hand, large enterprises may have dedicated incident response teams and require more advanced incident response capabilities.
Finally, the incident response segmentation can be based on industry verticals. Different industry verticals face different types of cyber threats, and incident response services need to be tailored to the specific needs of each industry.
For example, the life sciences industry is particularly vulnerable to ransomware attacks, while the financial industry is vulnerable to fraud and data breaches. Incident response service providers need a specialized incident response system, knowledge, and expertise specific to the industry to provide effective services.
Incident response service providers need to understand the various market segments and tailor their services accordingly. By offering a comprehensive range of incident response services and understanding the specific needs of different industries, incident response service providers can provide effective services to their clients and help protect organizations from cyber threats.
Incident Response Capabilities and Services in Demand
Advancements in available technologies and the rise of AI and automation lead to new solutions within incident response and readiness services. The clients' needs include:
Incident response plan
24/7 emergency support
Threat hunting approach with AI
As Harvard Business Review (HBR) emphasizes, the perfect incident response plan must clearly define and split responsibilities during an incident. Additionally, senior management and leadership must have a strategy that includes legal teams, incident response services, and third parties ready to jump in when an incident or data breach occurs.
Moreover, 24/7 emergency support with available consultants is a prerequisite. Another need is related to frameworks and models that can introduce a threat-hunting approach with AI. As the CEPS Task Force report emphasizes, AI has become a desirable and necessary tool for incident readiness.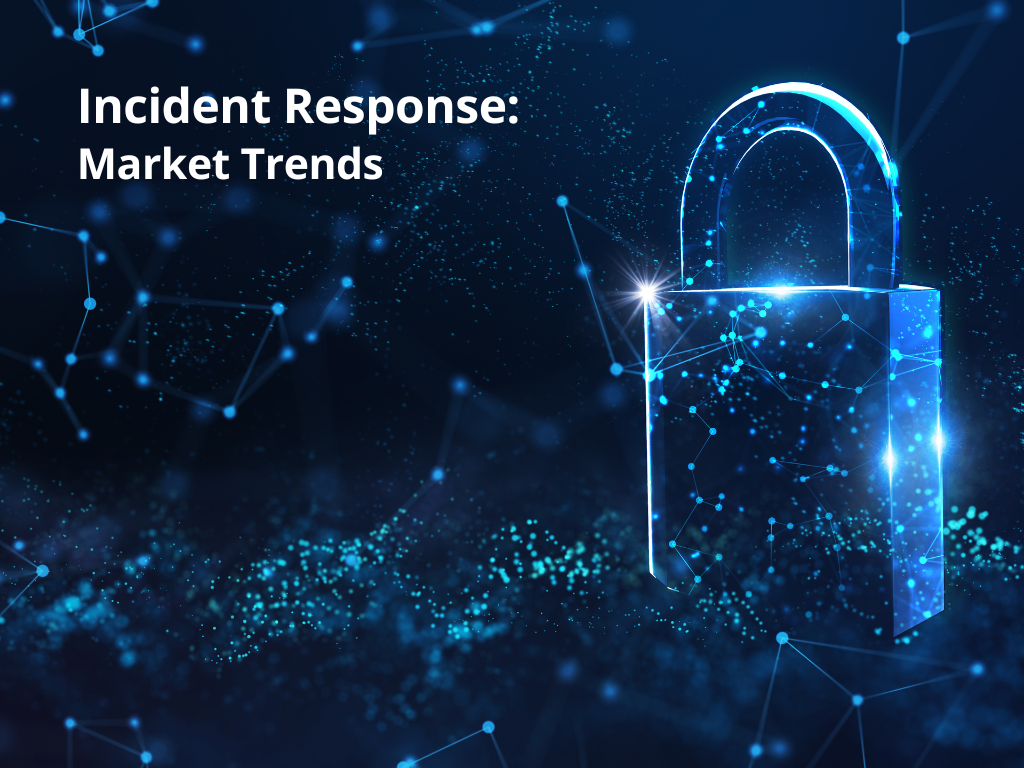 Key Incident Response Market Trends
Geopolitical tensions:
As Cybersecurity and Infrastructure Security Agency (CISA) informs, the recent Russian invasion of Ukraine might include a rise in malicious cyber activity against the US. According to predictions, the Russian Government investigates options for possible cyberattacks as an act of revenge for sanctions imposed on the Kremlin.
Regulatory compliance:
Rising costs and cyber threats associated with security breaches led to new regulations, such as The Cyber Incident Reporting for Critical Infrastructure Act of 2022, which was signed into law by President Biden.
After further consultations with The Cybersecurity and Infrastructure Security Agency ("CISA"), the act will require certain critical infrastructure companies to report cybersecurity incidents within 72 hours and ransomware payments within 24 hours. Compliance with these regulations will be a top priority for companies, and incident response service providers must stay up-to-date with regulatory changes to provide effective services.
Acquisitions:
In the past few years, the incident response and readiness category acquisitions have increased. The leading professional services firms and tech giants acquired a set of companies, including Symantec (2020), Context IS (2020), Sentor (2021), Openminded (2021), and Elevated Prompt (2019). Moreover, key tech companies acquired RiskIQ (2020), CloudKnox (2021), CyberX (2020), Reaqta (2021), Intrigue (2021), RP Digital Security (2020), and Security Compass (2021).
These acquisitions have allowed companies to expand their capabilities and offer their clients more comprehensive incident response services.
Talent:
The cybersecurity market needs to attract new talent to face the rising challenges of sophisticated security breaches. Attracting and retaining skills is a pressing challenge for private and public organizations.
Organizing workshops, training, and competitions might attract younger professionals with technical backgrounds to join incident response teams. Additionally, incident response service providers must invest in developing their staff's skills to stay ahead of emerging threats and technologies.
Cyber risk management for remote and home office employees:
As the Covid-19 pandemic hit the world, corporations switched to the home office, resulting in security breaches and incidents on a larger scale. As a countermeasure, corporations advised their employers to refrain from using media content on company devices, provide secure connections such as VPN, and implement the latest antivirus updates.
A proper incident response plan has become necessary for the new remote work era. Incident response service providers must stay up-to-date with emerging threats and provide effective services to mitigate the cyber risks associated with remote work.
Conclusion – Incident Response Market: Key Players, Trends, and Capabilities
The incident response market is rapidly evolving, and incident response service providers must stay up-to-date with emerging threats, technologies, and regulatory changes. Companies must work closely with incident response service providers to develop effective incident response plans and ensure they have the necessary capabilities and services to respond to security breaches effectively.
Additionally, companies must invest in attracting and retaining talent to stay ahead of emerging threats and technologies.